The ASP group service center repairs booms, hinges and other metal parts with the following special equipment: backhoe loader, wheel and tracked excavators LOVOL, FASSI, GUVENC, PAKSAN, FOTON, AGT, CATERPILLAR, KOMATSU, VOLVO, HITACHI, HYUNDAI, DOOSAN  and other brands. We offer not only a guarantee, but also reasonable prices for all types of work.
Diagnostic and repair services of arrows and joints are carried out in the workshop and on-site by calling the customer. We carry out ongoing and complete repairs and, if necessary, an urgent visit to the facility to quickly eliminate the problem.
Our specialists use high strength steel grades including Hardox steel plates. The service department is equipped with ESAB welding equipment, modern mobile service, which allows to repair holes in metal structures on the spot. Excavator post-repair work should be entrusted only to professionals who carry out the repair work in accordance with the design documentation of specially developed technologies.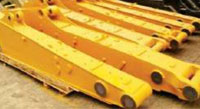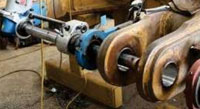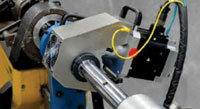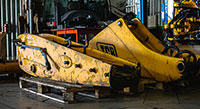 Service Centre
Evgenia Maisuradze str # 10, Tbilisi, Georgia
Service Centre
Tvalchrelidze 4/1, Tbilisi, Georgia
Service Centre
Magistral E60 #7KM, Poti, Georgia